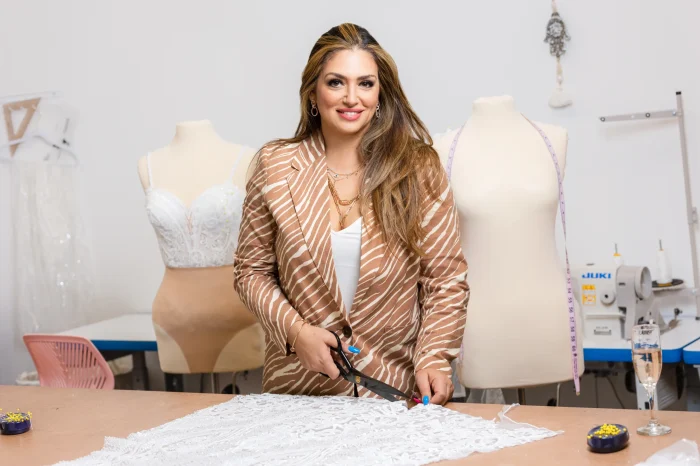 Wedding Dress Terms You Should Know Before Wedding Gown Shopping
When it comes to choosing the ideal bridal gown, understanding wedding dress terms will make your wedding gown shopping experience smoother and more enjoyable. In this article, we'll delve into the world of wedding dress terms, unveiling the intricacies of haute couture, made-to-measure, demi-couture, ready-to-wear, and pre-loved wedding dresses.
Haute couture wedding dresses are the ultimate expression of luxury and craftsmanship. Designed by renowned fashion designers, haute couture dresses often feature intricate detailing, hand-sewn embellishments, and the finest materials. While they come with a hefty price tag, the result is breathtaking.
Made-to-Measure Wedding Dresses
Made-to-measure dresses offer a perfect blend of individuality and affordability. Unlike haute couture, they are not entirely handcrafted from scratch. Instead, they are customized to your measurements, incorporating your style choices. This way, you get a dress that fits like a dream and reflects your taste.
Demi-Couture Wedding Dresses
Demi-couture wedding dresses strike a balance between luxury and affordability. They are semi-custom gowns that combine the craftsmanship of haute couture with a lower price point. Demi-couture wedding dresses often feature high-quality materials and elegant designs, making them an attractive choice for brides looking for luxury without breaking the bank.
Ready-to-Wear Wedding Dresses
Ready-to-wear wedding dresses are off-the-rack gowns that provide both convenience and style. These dresses are available in standard sizes and designs, making them a quick choice for brides with a tight schedule. While they may lack the custom fit of made-to-measure or haute couture gowns, they are a practical option for many.
Pre-Loved Wedding Dresses
Pre-loved wedding dresses, also known as second-hand or vintage gowns, are budget-friendly. These dresses have been worn before but are often in excellent condition. Choosing a pre-loved wedding dress means you can allocate more of your wedding budget to other aspects of your special day while still looking stunning on your walk down the aisle.
Wedding Dress Shopping Tips
Before exploring the world of wedding dresses, consider these invaluable tips. These insights will help you maximize your gown shopping experience, from setting your budget to seeking professional advice.
•    Research: Begin by researching the latest wedding gown trends and styles.
•    Budget: Set a budget for yourself and stick to it.
•    Shop Early: Start shopping at least six months before your wedding date.
•    Try Various Styles: Be open to trying on different styles to find what suits your style best.
•    Consult a Professional: Seek advice from bridal consultants and attend bridal expos.
What's the difference between haute couture and made-to-measure wedding dresses?
Haute couture wedding dresses are the epitome of luxury, crafted by renowned designers for a truly bespoke experience. They involve the highest level of craftsmanship, and no expense is spared regarding materials and detailing. On the other hand, made-to-measure dresses offer a personalized fit without the hefty price tag. These gowns are tailored to your specific measurements, allowing you to choose from various designs and fabrics. While haute couture offers unparalleled exclusivity, made-to-measure combines quality and customization to create a gown that fits your style and budget.
How early should I start shopping for my wedding gown?
Six months or more before your wedding day is the minimum time to begin your wedding gown shopping. This timeframe allows ample time to browse different styles, try on dresses, make alterations if necessary, and ensure that your gown is ready well before your big day. Starting early also alleviates the stress of last-minute decisions and allows you to savor choosing the perfect dress without feeling rushed.
Can I find ready-to-wear wedding dresses in unique styles?
Yes, you can find ready-to-wear wedding dresses in a wide variety of styles. While these gowns are available in standard sizes, they come in diverse designs to suit different tastes and preferences. Whether you're looking for a classic, bohemian, or modern style, ready-to-wear dresses offer an array of choices.
Can I make alterations to a ready-to-wear wedding dress?
Yes, you can make alterations to a ready-to-wear wedding dress to ensure a better fit and to add personal touches. Consult with a skilled tailor or seamstress for the best results.
How much should I budget for a haute couture wedding dress?
Haute couture wedding dresses are known for their luxury and craftsmanship, which comes at a price. Depending on the designer and level of complexity of the dress, prices can vary from hundreds to tens of thousands of dollars.
Wedding gown shopping can be a whirlwind experience, but having a good grasp of these wedding dress terms can make your journey smoother and more enjoyable. Whether you're dreaming of a bespoke haute couture gown or looking for an eco-friendly option with a pre-loved dress, you can now clearly communicate your preferences.
So, in conclusion, remember that the perfect wedding gown is not just about the style but also about how well it suits you physically and emotionally. Understanding these wedding dress terms empowers you to make the best choice.
At Naama House of Couture, we understand that every bride deserves to feel like royalty on her wedding day. Our commitment to exclusive lace and meticulous attention to detail means that we use only the finest fabric and materials to create gowns that perfectly match your style and personality. 
But our dedication doesn't end with the gown itself. We offer personalized service from the initial consultation to the final fitting, ensuring your comfort and confidence every step of the way. We're here to make your dream wedding a reality.
Book your appointment now.