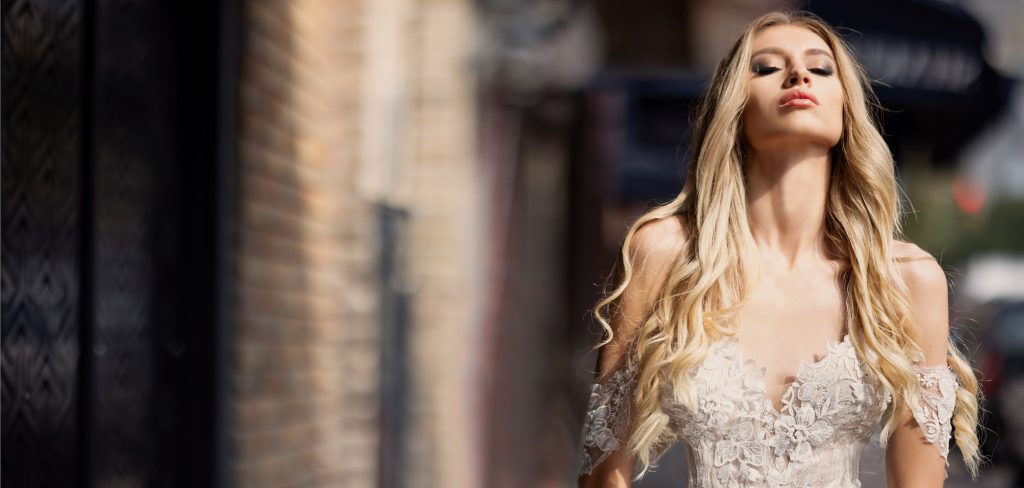 Welcome to our world of bridal elegance and exquisite design. At Naama Navipur House of Couture, we understand that choosing your dream dress is a momentous occasion. To make this journey truly exceptional, we offer a range of consultation options, including in-person and virtual sessions, tailored to your preferences. Whether you're looking for an intimate in-person experience or the convenience of a virtual meeting, Naama and her team are here to guide you through every step of the process.
In-Person Bridal Consultation
During this meeting, you'll have the chance to express your vision, ideas, and desires for your dream dress. Naama will delve into your personality and style preferences, ensuring that your gown is a true reflection of you.
A Magical Encounter
This is your opportunity to share your dreams and inspirations with Naama. Feel the textures of fabrics, explore colors, and discuss embellishments that capture your heart. We will take measurements, discuss customization options, and consider your budget. Your journey to the perfect gown begins here.
Design Proposal
After our initial meeting, Naama will work her magic and create sketches that bring your vision to life. You'll receive a personalized proposal outlining the design, fabrics, and other details so you can see your dream dress take shape. Subsequent consultations can be arranged to ensure your gown is everything you've ever envisioned.
Virtual Bridal Consultation
A virtual consultation with Naama is a remote meeting or appointment conducted through digital means, typically over video conferencing platforms or through other online communication tools. During this consultation, brides can connect with Naama or the team without the need for an in-person visit. During this virtual meeting, we'll discuss all the important elements of your wedding gown, just as we would in person:
•    Your vision and style preferences.
•    Specific design elements you have in mind.
•    Fabrics, colors, and embellishments.
•    Customization options and alterations.
•    Sizing and measurements.
•    Budget considerations.
Visual Aids
To help you visualize your gown, Naama may use digital tools, showcasing sketches, gown samples, fabric swatches, and other visual aids. You'll see your dream dress come to life right before your eyes.
Scheduling Follow-Up
If you decide to proceed with a custom gown, Naama will guide you through the next steps, which may include additional virtual fittings, measurements, and a detailed creation timeline.
Documentation
Following your virtual consultation, you'll receive a comprehensive summary of our discussion, including any design concepts and decisions made during the meeting. We're committed to transparency and open communication every step of the way.
What should I prepare before my first bridal consultation?
Before your first consultation, gather any wedding inspiration, ideas, or questions you have. Knowing your budget and having a rough guest count can also be helpful for your consultant.
How far in advance should I start bridal consultation for my wedding?
Ideally, it would be best if you started bridal consultation at least 12 to 18 months before your wedding day. This provides ample time to plan and make crucial decisions.
Can I bring my ideas and Pinterest boards to the bridal consultation?
Absolutely! Your ideas and inspiration from platforms like Pinterest can be incredibly helpful during the consultation process. They help Naama understand your vision.
Can I make changes to my wedding plans after the consultation has started?
Yes, you can make changes, but it's better to discuss them with Naama as early as possible. Changes made later in the process may affect your budget and timeline.
What is the typical duration of a bridal consultation session?
The duration of a bridal consultation session can vary depending on your needs and the approach. It can take the form of one meeting or continuous assistance throughout your wedding planning.