Naama Navipur House of Couture
Welcome to Naama Navipur House of Couture, where our mother-daughter duo crafts bridal gowns and evening wear that exude confidence, beauty, and uniqueness. Our journey in fashion began over 25 years ago in Israel, and today, we proudly serve clients worldwide from our boutiques in Israel and the United States.
At Naama Navipur House of Couture, we believe every bride deserves to feel like royalty on her wedding day. With our exclusive lace and meticulous attention to detail, we use only the finest fabric and materials to create gowns that perfectly match your style and personality, whether a classic ball gown or a modern silhouette.
Our dedication doesn't end with the gown; we offer personalized service from the initial consultation to the final fitting, ensuring your comfort and confidence every step of the way. Let us make your dream wedding a reality.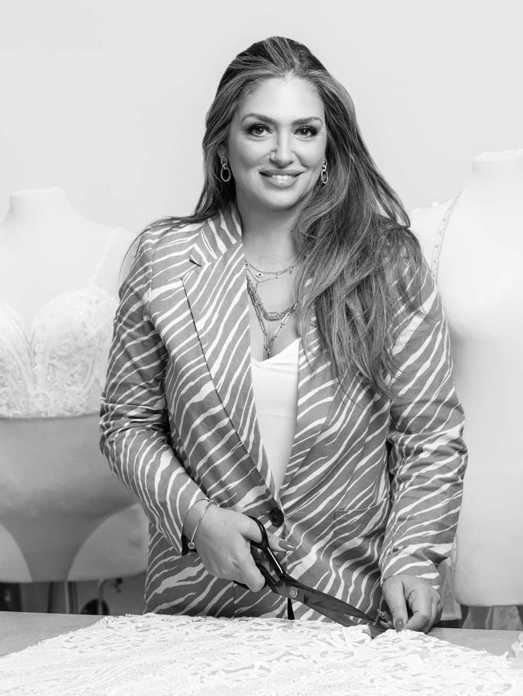 I had the absolute BEST experience at Naama & Anat House of Couture!!! She literally brought my vision to life! I owe it all the Naama!! Quick responses!!! Amazing feedback, she gave me so many options of what i liked and what looked great!! She truly listens to you and she will make your vision come true
Naama and her wonderful mother, Anat, are wedding dress experts! They genuinely care about making sure your dress fits perfectly, while making a statement. I can't be happier with how my wedding dress turned out and am so thankful for these ladies. Would recommend them time and time again!
Naama is truly such a master at what she does and I had such a great experience at Philly Bride with her and Carley. I met Naama at the trunk show and loved all the details on her dresses. While they were all stunning off the rack, I had envisioned something specific and asked for a custom. Naama designed the most stunning gown for me and it turned out even better than I imagined. She was so patient with me every step of the way and checked in often about each and every detail.
every brides fairy godmother ✨ I can not say enough good things about Naama and her team. For starters, I bought my dream dress about 14+ months prior to my wedding. I really liked the design of two different gowns and Naama said "No problem! We can piece the two of them together to make you a custom gown!" (uhm.. what!?) Say less. I was sold and the design process began. During this time, I had some health problems that resulted in a rapid and unexpected weight gain. When I tried my dress on for the first time, 2 weeks before the big day, the bodice of my gown was off my several inches. Naama and her team worked overtime to make sure my dress was perfect for our wedding, and it was! Tell me that David's Bridal would've been able to turn that big of an alteration around in a matter of days or customize your gown? Doubt it! Naama was truly a blessing. She made me feel so beautiful, the most beautiful i've ever felt, especially during a time when I was struggling with the vanity aspect of gaining unexpected weight. Thank you a million! I will cherish my gown forever!
I cannot speak highly enough about Naama and Anat Bridal. Her talent and craftsmanship in creating custom wedding dresses are simply unmatched. The attention to detail and the level of care they put into their work is exceptional. She has a unique ability to capture the essence of a bride and create a dress that truly reflects her personality and individuality. Throughout the design process, the team at Naama and Anat Bridal displayed remarkable skill and creativity. They were always responsive to my inquiries, ensured timely fittings and alterations, and kept me updated on the progress of my dress. Their commitment to excellence and their dedication to making my dream dress a reality was evident in every interaction. On my wedding day, I felt like an absolute princess in my Naama and Anat gown. The compliments I received from my guests were endless, and I have Naama and Anat to thank for that. Their designs are nothing short of magical, and I am forever grateful for the stunning dress that made me feel like the most beautiful bride. If you are looking for a custom wedding dress designer that will surpass your expectations, look no further than Naama and Anat Bridal. Trust them to create a dress that will make your wedding day truly unforgettable. Naama and Anat Bridal, thank you for creating a dress that made my wedding day truly magical. Your artistry and dedication are unparalleled, and I would highly recommend you to any bride-to-be in search of a custom wedding gown.
I worked with Naama and Shana for my custom wedding dress at The Blushing Bride Boutique and the entire experience was perfect! This boutique has an elegant feel that I didn't find anywhere else while dress shopping. Naama completely customized my gown, taking my measurements and creating a new one in shop. My wedding gown fit me better than anything else I've ever worn. I can not recommend Naama's designs enough. I appreciate Naama and Shana's hard work and professionalism so much and they made wedding planning so much sweeter! If you're wedding dress shopping, you MUST give this team a visit! Highly recommend!
Naama truly made my bridal dreams come true. I am so grateful for her & her team. My dress & veil were absolutely perfect for me and fit me like a glove. I got so many compliments and truly felt like a QUEEN on our special day. I want to wear my dress time and time again with how beautiful and unique it is! 😍 I love how Naama's gowns are couture, custom to your body, and have a built in bodysuit. That was so helpful for me on the day of! I absolutely adored every part of my dress and veil, and Naama was incredible to work with. She is so sweet and truly cares about each bride she is creating for!
What is the cost of a couture wedding dress?
The cost can vary widely depending on the fabric and materials used and the complexity of the design. Couture wedding dresses typically start at several thousand dollars and can go much higher.
What is the typical timeline for designing a couture wedding dress?
The timeline varies, but it usually takes six to twelve months to design and create a couture wedding dress. It's best to start the process early to allow for fittings and alterations.
What is the process for fittings and alterations?
We typically schedule multiple fittings to ensure the dress fits perfectly. Alterations are made as needed to achieve the desired fit.
Can I make changes to a gown I've already ordered?
Depending on the stage of production, some changes may be possible. However, significant alterations to the design may incur additional costs.